Happy New Year Pretzel Recipe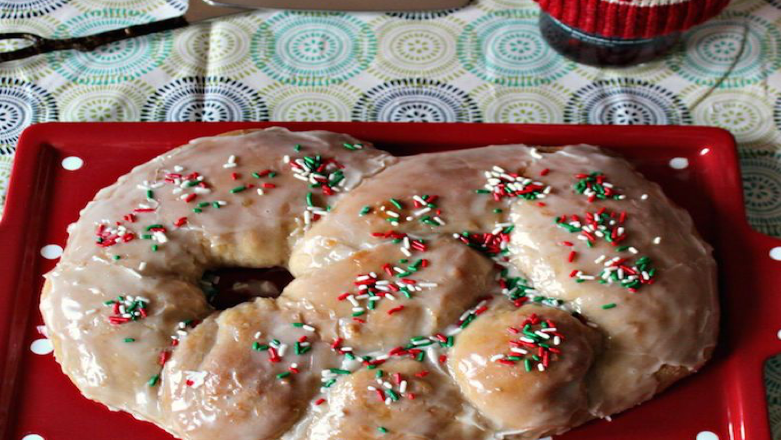 A German "Good Luck" tradition – we could ALL use a little good luck! Enjoy a pretzel too!
Channel J Recipe
Happy New Year Pretzel Recipe
This page is print-friendly!
INGREDIENTS
FOR DOUGH:
1 cup skim milk

¼ cup canola oil
¼ cup brown sugar, packed
2 ½ cups all-purpose flour, or flour of choice
¼ teaspoons baking powder
¼ teaspoon baking soda
¾ teaspoon salt
½ teaspoon ground cinnamon
1/8 teaspoon ground nutmeg
1 ¼ teaspoons active dry yeast
½ teaspoon vanilla extract
FOR GLAZE
1 cup powdered sugar
1 tablespoon coffee
2-3 teaspoons maple syrup
2-4 teaspoons milk (enough to thin, if needed)
Sprinkles (optional)
INSTRUCTIONS
Heat the milk, oil and brown sugar in a large pot just until the brown sugar has dissolved. You should be able to comfortably touch the side of the pot.
While the wet ingredients heat up, measure the flour, baking powder, baking soda, salt, cinnamon and nutmeg into a bowl. Stir to combine.
Once the brown sugar has dissolved, sprinkle the yeast on and allow to sit for 5 minutes. Add the vanilla a and mix in the dry ingredients until combined. If the dough is too wet, you can stir in an additional 1-2 Tablespoons of flour, a tablespoon at a time.
Cover and allow to rise for approximately 30 minutes.
Line a cookie sheet with parchment paper. Set aside.
Turn dough out onto a well-floured surface. Coat it in enough flour so you can work with it and pull (rather than roll) into a long log. Transfer the log to the cookie sheet and form into a pretzel shape. Allow to rest for 15 minutes to 2 hours.
Preheat oven to 350 degrees. Bake the pretzel until golden brown, around 20-25 minutes.
While the pretzel cools slightly, mix the powdered sugar, maple syrup and coffee in a small bowl. Add the milk a teaspoon at a time until it reaches the desired consistency. Spread the glaze on the pretzel and immediately add sprinkles.
Let sit for a few minutes before serving. Store leftovers loosely covered for up to 2 days at room temperature.
Yields: 8-12 Servings (nutritional information based on 12 servings)
NUTRITIONAL INFORMATION
Calories 202
Total Fat 4.8g
Saturated Fat 0.4g
Polyunsaturated Fat 1.5g
Monounsaturated Fat 2.7g
Cholesterol 0.4mg
Sodium 167mg
Potassium 78mg
Carbohydrates 37.5g
Fiber 0.8g
Sugar 15.7g
Protein 3.6g