Turkey Enchilada Casserole Recipe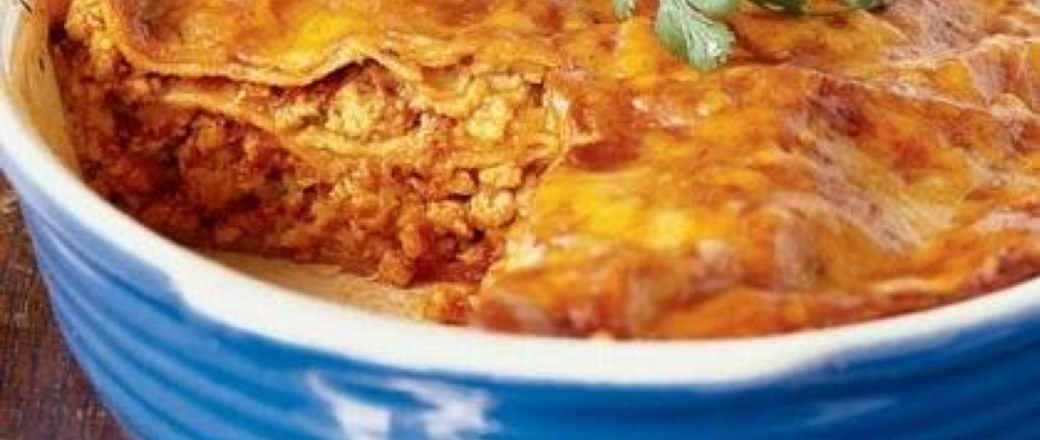 Enjoy this easy, comforting casserole with its layers of tortillas, ground turkey, enchilada sauce and seasonings!  Great with chicken too!
Channel J Recipe
Turkey Enchilada Casserole Recipe
This page is print-friendly!
INGREDIENTS
1 1/2 pounds ground turkey breast
1 can (29 oz.) red enchilada sauce
1/2 cup chopped onion
1 Tablespoon minced garlic
2 Tablespoons minced fresh oregano leaves
Or 1 Tablespoon dried
1/2 teaspoon ground cumin
Chopped, fresh cilantro (optional)
12 corn tortillas (6 in. wide)
2 cups shredded low fat jack cheese (8 oz.)
1 teaspoon canola oil
Salt, to taste
DIRECTIONS
1. In a 5- to 6-quart pan over high heat, stir turkey, onion, garlic, oregano and cumin in oil until turkey is crumbly and no longer pink; about 4 minutes. Stir in 1 cup enchilada sauce. Add salt to taste.
2. Meanwhile, cut tortillas in half. Arrange a fourth of the halves evenly over the bottom of a shallow 3-quart casserole, overlapping to fit. Sprinkle a fourth of the cheese evenly over the tortillas, then top with a third of the turkey mixture and a fourth of the remaining enchilada sauce, spreading each level. Repeat to make two more layers of tortillas, cheese, turkey mixture and sauce; top with another layer of tortillas and sauce, then cheese.
3. Bake in a 425 degree oven for 18-20 minutes or until casserole is hot in the center and cheese is melted. Sprinkle with chopped cilantro.
Yields: 8-10 Servings (nutrition info based on 10 servings)
NUTRITION INFORMATION
Calories 270
Total Fat 7.2g
Saturated Fat 3.0g
Carbohydrates 26g
Protein 25g
Sodium 983mg
Cholesterol 58mg
Fiber 2.8g