Mushroom, Gruyere, and Spinach Quiche Recipe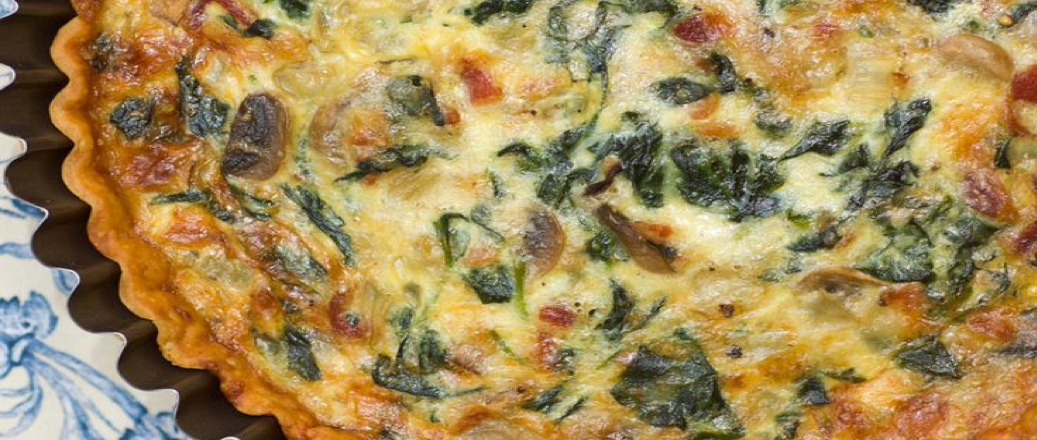 This lighter version will be a welcomed addition to your spring brunch menu!
Channel J Recipe
Mushroom, Gruyere, and Spinach Quiche Recipe
This page is print-friendly!
INGREDIENTS
1 cup + 2 tablespoons flour
3/4 teaspoon salt, divided
1/2 teaspoon black pepper, divided
1/4 teaspoon baking powder
2 tablespoons olive oil
3 tablespoons ice water
Cooking spray
3 slices turkey bacon
2 ounces Gruyere cheese, grated
¼ cup chopped shallots
1 (8-ounce) package pre-sliced mushrooms
2 teaspoons fresh thyme
2 cups packed baby spinach
1 cup skim milk
1/3 cup fat free half & half
3 large eggs
1 large egg white
DIRECTIONS
Preheat oven to 425 degree F.
In a bowl or food processer, combine flour, 1/4 teaspoon salt, 1/4 teaspoon pepper and baking powder.  Pulse or stir to combine.
Combine oil and 3 tablespoons water.  Slowly add oil mixture to the flour mixture stirring or processing until dough comes together. Turn dough out onto a lightly floured surface.  Knead 1 minute. Press dough into a 5-inch disk. Wrap in plastic wrap and chill 20 minutes.
Roll dough into a 12-inch circle.  Fit dough into a 9-inch deep-dish pie place coated with cooking spray.  Bake at 425 degrees for 12 minutes or until edges are golden.  Cool on a wire rack.
Reduce oven temperature to 350 degrees F.
Cook bacon in a large skillet over medium-high heat until crisp. Remove bacon and crumble.  Return pan to medium-high heat and spray with cooking spray; add shallots and sauté 2 minutes.  Add mushrooms and thyme.  Cook 10 minutes stirring occasionally.  Stir in the spinach; cook 2 minutes or until spinach wilts.  Remove from heat; let stand 10 minutes.  Drain any excess liquid.
Place milk, half & half, eggs, egg white, remaining 1/2 teaspoon salt and 1/4 teaspoon pepper in a blender.  Process until smooth.
Arrange half of cheese over bottom of crust; top with spinach mixture and remaining half of cheese. Carefully pour milk mixture over cheese. Sprinkle with bacon. Bake at 350 for 45 minutes or until filling is set. Let stand 10 minutes.
Yields: 6 servings
NUTRITION INFORMATION
Calories  141
Total Fat  3.1g
Saturated Fat  1.6g
Polyunsaturated Fat  0.4g
Monounsaturated Fat  0.6g
Cholesterol  13mg
Sodium  276mg
Potassium  140mg
Carbohydrates  19g
Fiber  0.9g
Sugars  2.7g
Protein  8.0g