Linzer Thumbprint Cookie Recipe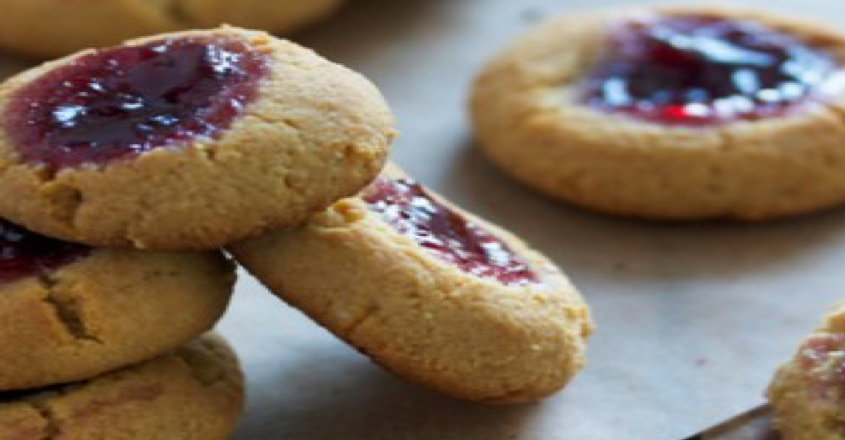 Low in cholesterol, sodium and sugar, yet so good you can't have just one!
Channel J Recipe
Linzer Thumbprint Cookie Recipe
This page is print-friendly!
INGREDIENTS
¾ cup hazelnuts, toasted for 6-7 minutes in 350 degree oven
1 ½ cup flour
½ teaspoon ground cinnamon
¼ cup packed brown sugar
6 Tablespoons chilled butter, cut into small pieces
1 large egg white
¼ teaspoon salt
½ teaspoon baking soda
1/3 cup granulated sugar
1 teaspoon fresh lemon juice
¼ cup seedless raspberry jam
1 teaspoon vanilla extract
Yields: 30 2-inch cookies
DIRECTIONS
Preheat the oven to 350 degrees F.
In a food processor, combine ½ cup toasted hazelnuts and ¼ cup of flour. Pulse about 20 times until the nuts are finely chopped.
Transfer to a mixing bowl and add the remaining flour, baking soda, ground cinnamon and salt. Stir to combine.
With an electric mixer or food processor, combine sugars together until well mixed. Add the butter in pieces, scraping the sides of the bowl as necessary. Add the egg white, vanilla and lemon juice. Add in the flour mixture until it is well incorporated.
Place ¼ cup finely chopped hazelnuts in a small bowl. Roll 1 Tablespoon of the dough into a ball. Gently roll the dough in chopped nuts. Place 2 inches apart on 2 baking sheets lightly coated with cooking spray or lined with parchment paper.
Make an indentation in the center of each cookie, going almost to the bottom. Using raspberry jam, or jam of choice, fill each indentation with about ¼ teaspoon.
Bake one sheet at a time for 15 minutes or just until the cookies begin to brown on the top and are just set around the edges. Do not over-bake.
Remove baking sheets from oven and allow cookies to sit on sheets for 2 minutes or until firm enough to lift with a small spatula. Transfer cookies to a cooling rack to cool completely before storing them in an airtight container.
NUTRITION INFORMATION
Calories per cookie 83
Total Fat 4.4g
Saturated Fat 1.5g
Monounsaturated Fat 2.2g
Polyunsaturated Fat 0.4g
Cholesterol 6.2mg
Potassium 40mg
Protein 1.2g
Carbohydrates 11g
Sugar 5.5g
Fiber 1g