Club Julian is turning 28, and we're ready to make it GREAT for you!  Throughout the entire month of March, CJ will be pumping up the excitement level with weekly prize giveaways, FREE Anniversary t-shirt raffles, special events, and so much more!  What do YOU have to do to be part of the fun?  Simply show up!
As a way to thank our loyal members and celebrate 28 great years as the best fitness facility in the North Hills, Club Julian will give away cash and prizes with a total value of more than $5000 in March!
Our "Weekly Treasure Chest Drawings" will feature a trove of cool swag including workout gear, Kalorik blenders, $50 gift cards for Giant Eagle, GetGo and Dick's Sporting Goods, and so much more!  Plus, one lucky winner will take home a Fitbit Versa Smartwatch valued at nearly $200!  The 28 days Treasure Chest Drawings start March 4th, so make sure you get your "booty" to Club Julian to be eligible!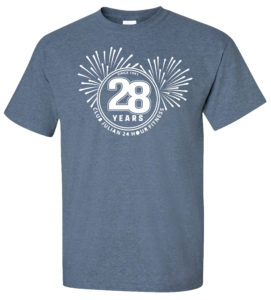 And the stylish swag just keeps on swirling in March as Club Julian conducts its Famous T-shirt Drawings!  This year's stylish, heathered indigo 28th Anniversary t-shirts will also be on sale in the Pro Shop for a low introductory price of just $10!
But that's just the start!  Club Julian's Anniversary Month "Grand Referral Rewards Program" is the biggest and best EVER with $25 cash rewards for every new member referral made in the month of March PLUS automatic entry into our $1000 Grand Prize Drawing on April 5, 2019.  One lucky winner will have a "grand" start to their spring for sure – could it be YOU?  See the front desk for referral rewards details.
March will also feature an incredible line-up of special events including seminars on interesting topics like Stem Cell Therapy, Lyme Disease, and Lower Back Injury Prevention.  Our Central Blood Bank Spring Blood Drive will take place on Saturday, March 23rd as the "bloodmobile" visits Club Julian's parking lot – be sure to schedule a time to donate if you are able.  And don't miss our "Fit Tuesday" Facebook promotion on March 5th where every Club Julian member who posts their killer workout pic or video on our page will drink on us!  That's right, just post your "workout shout out" before midnight on Tuesday, March 5th to our Faceb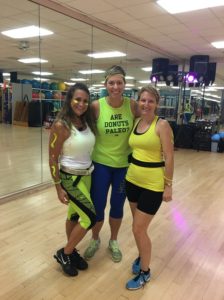 ook page and you can enjoy ANY refreshing beverage in our cooler anytime during the month of March (one free drink per member).  Be sure to tag Club Julian on Facebook or Instagram so we see it!
March is known as the "Big Dance" month in college basketball – and the same could be said for March Anniversary Month at Club Julian!  Deawna, Super Jen, and Lori B. are set to rock another insane Friday Night Dance Party at CJ on March 22nd!  Then less than 24 hours later, the dance floor will be smokin' again as Shirley Schultz conducts a FREE Line Dancing Demo at Club Julian at 2pm on March 23rd!
March at Club Julian is truly going to be memorable!  For a complete calendar of events visit our website and follow along on Facebook.  CYA at CJ!