Buffalo Turkey Meatball Recipe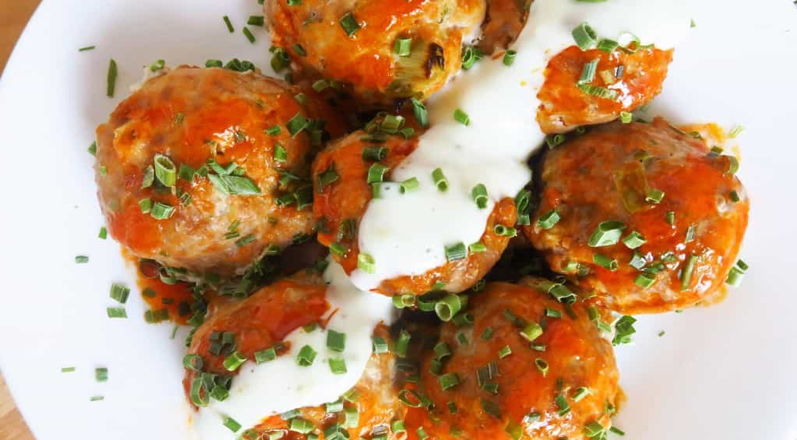 Enjoy these savory treats with a kick of heat!  Bonus – they're leaner with turkey.
Channel J Recipe
Buffalo Turkey Meatball Recipe
This page is print-friendly!
INGREDIENTS
1 lb. ground turkey breast
1/2 cup breadcrumbs
1/4 cup skim milk
1 large egg
1/2 teaspoon salt
1/4 teaspoon pepper
1/2 teaspoon smoked paprika
1/2 teaspoon garlic powder
1/4 teaspoon onion powder
1/3 cup + 2 teaspoons Louisiana hot sauce
Light Bleu Cheese Dressing (optional)
DIRECTIONS
Preheat oven to 400 degrees F
In a large bowl, mix together bread crumbs and spices. Add the milk and egg; let breadcrumbs absorb the mixture for 5 minutes or so. Add turkey and mix well.
Scoop 1 1/2 tablespoon-sized meatballs in a cookie scoop. Place on a lined baking sheet. You should get about 26 meatballs.
Bake for about 20 minutes, or until cooked through.
Add 1/3 cup hot sauce to a medium bowl. Add hot meatballs and mix together.
Serve immediately with a bit of parsley for garnish and a splash of light bleu cheese dressing if desired.
Yields: 26 Meatballs
NUTRITIONAL INFORMATION
Calories 34
Total Fat 0.9g
Saturated fat 0.3g
Polyunsaturated Fat 0.0g
Monounsaturated Fat 0.0g
Cholesterol 18mg
Sodium 195mg
Potassium 9.7mg
Carbohydrates 1.8g
Fiber 0.1g
Sugar 0.3g
Protein 2.6g