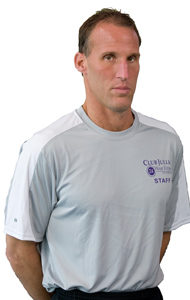 For many fitness enthusiasts, running an Independence Day 5K is every bit a part of the Fourth of July routine as hot dogs and fireworks.  For the marathon crowd, the ID5K represents a welcome offseason reprieve between the spring and fall training seasons.  For more casual runners, 3.1 miles is the perfect distance that offers a challenge while not taking up too much time for training.
But either way, we all want to do our best on the 4th of July, or any other summer 5K, right?  CJ Trainer Mike Salamon, a certified running specialist, recently offered some training tips for more established runners (not beginners) who want to clock in under 30 minutes for 3.1 miles.  Check out what Club Julian's resident running expert has to say on the subject of a faster 5K:
---
So, for many of us now, marathon season is over. But running season certainly is not and really, it is just getting started. If you are careful, summertime is a good time to train and do shorter races such as 5Ks, so let's discuss some ideas to train for one.
Breaking the 30-minute mark for a 5K is a very worthy challenge that runners attempt.  In order to run a sub 30-minute 5K, you will have to average about 9:41 per mile or faster. This would also average about a 4:50 for a half mile (800 meters) or 2:25 for a quarter mile (quarter mile)
Now racing a 5K emphasizes a different energy system than racing a full or even half marathon. A 5K, depending on how fast you run it, will emphasize your VO2max or your aerobic capacity. You won't quite be at that intensity, but certainly you will be much closer to it than the longer races and you will feel much different during the last mile at the end of a 5K than you would during a distance race.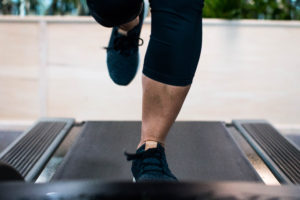 Now is a great time to begin speed or interval training because the school year is over and you will have greater access to high school tracks both in the early morning and in late evening when the weather is cooler.  Doing speed work on tracks basically just makes it easier to gauge the distance and not worry about dealing with elevation or other obstacles while trying to hit you speed goals.
If you already have a fairly strong aerobic base, you will need to condition your body and mind to run that specific pace in your 4-week training program, while also decreasing the rest you take between intervals at that pace.  Therefore, you would need to do two speed workouts per week in addition to your slower long weekend run and maybe another very short and slow "time on your feet" run each week.  REMEMBER, you should NEVER do speed or long runs on back-to-back days.  Always insert a rest day, cross training, or light day in between your more challenging runs.  Here is a simple example of a progression of the faster interval runs aimed at getting your 5K time under the 30-minute mark.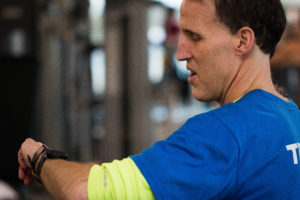 Week 1. 6×400 meters (1 lap of outdoor track) aiming for 2:50, with 1-minute slow jog in between. Second workout same thing but do 8×400.
Week 2. 4×800 meters aiming for a 4:50 pace with 2 minutes of slow jog in between. Second workout 5×800 same thing.
Week 3. 4×1200 (3 laps) aiming for a 7:15 pace with 2:30 slog jog in between, and second workout 3x 1 mile at 9:41 pace with 3:00 jog in between.
Week 4. 6×800 meters aiming for 4:50 but with 1-minute slow jog, and second workout 3x 1 mile at 9:41 pace with 2 minutes slow jog.
These workouts should definitely be challenging, but not completely exhausting. If the 30-minute mark is a bit beyond your capabilities, leave a comment on this page as to what your 5K time goal is and we will modify the program for you accordingly.  Good luck!